More technical data...
Don't forget to check all the pages!
Or Jose would be greatly disappointed. Ever heard of the Mexican Mafia? They'll find you if you don't check it out!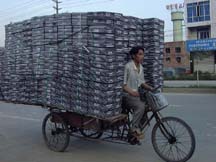 And yes, all the cars are being mailed back Tuesday, Jan 2, 2001!
I guess it's a little bit faster than other proxy races we heard of...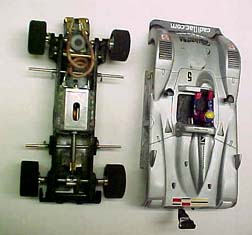 Len Jackson Cadillac LMP...
...after the unfortunate straightaway crash, when his and Rod McPherson's Ferrari P4 collided at speed. Have no fear Len, we DO have the wing, and it is a clean break. A little glue and all will be forgiven.
Leonard used a hand-built plastic chassis using a Plafit Cheetah and floating tubular body mounts. A strong magnet took care of downforce, but Jose asked me to tell you that In-Line motors are a thing of the past since 1968...Really, the car was very nice, but could not compete with the girls. Better tires might have helped.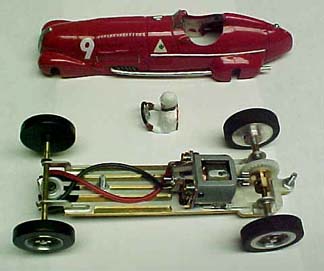 Russell Sheldon's Alfa...
...was really a beautifully finished car, and had the cutest motor. With Mark, Russell put the most effort into the race, and was rewarded by a fine race win in Class B. Mark's car only beat it overall because of obviously biased Concours Judges. Yeah, right!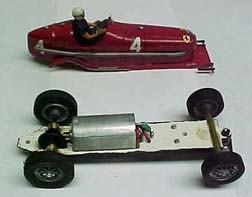 Mac Pinches' Alfa P3...
...was completely hand-built. The balsa-wood body was bolted on a plastic hand-cut chassis. The motor did not have enough humph, and the car had poor traction. Easy things to fix, and Mac will be back next year with a killer set of cars, Jose told me.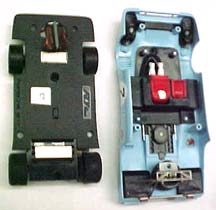 Bryan Warmack modified FLY 917...
....was cloning Kathryn's car, but did not work as well. Bryan got in the act and took some precious time to craft the changes on the car, which included Slot-It magnets, solid front axle, Indy-Grips and an improved stock guide flag. It suffered from poor contact. Bryan had not raced a slot car since 1968, when he was Team Riggen's captain and a top pro racer.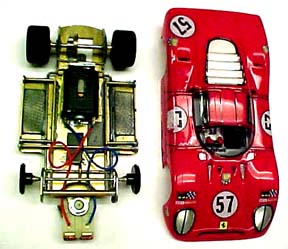 Dr Perez-Pabon's Ferrari 312P...
Manuel Perez-Pabon's car was built by Mark Manion. It was a really good car that needed only 2 improvements: a pair of silicon tires and a deeper guide flag.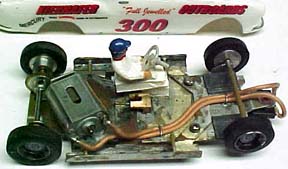 Another pic of Alan Schwartz Chrysler 300.
Its steel chassis was a bit ragged, but the car ran fine except for poor traction. But Alan did not go to Andy Smith's pinion-soldering school, and it spun on him, causing an early retirement.